The important thing of the winds – brooks within the desert
The Lord has prepared his throne in heaven; and his kingdom rules over everything (Ps 103: 19).
Some time ago, in early spring, I went out at my door when a gust of east wind came around the corner – defiant and pitiless, violent and withered – and sent a cloud of dust in front of it. I was just taking the key from the door when I said half impatiently: "I wish the wind would" – I wanted to say change; but the word was checked and the sentence never ended.
When I set off, the incident became a parable for me. Then an angel came who held a key; and he said, "My Master sends you his love and asks me to give you this." "What is it?" I asked and was surprised. "The key of the winds," said the angel, and disappeared.
Now I should be really happy. I hurried up where the winds came from and stood between the caves. "I'll be done with the east wind anyway – and that won't bother us anymore," I cried; and when I called this unfriendly wind, I closed the door and heard the echoes ringing in the hollow places. I triumphantly turned the key. "There," I said, now we're done with it.
"What should I choose in his place?" I asked myself and looked around. "The south wind is pleasant"; and I thought of the lambs and young life on each hand and the flowers that had started to decorate the hedges. But when I put the key in the door, it started burning my hand. "What am I doing?" I cried; "Who knows what disaster I can do? How do I know what the fields want! Ten thousand sick people can arise from my stupid wish."
Confused and ashamed, I looked up and prayed that the Lord would send his angel again to take the key. and for my part I promised that I would never want it again. But behold, the Lord himself helped me. He reached out to take the key. and when I put it down I saw that it was resting on the sacred wound print.
Indeed, it hurt that I could ever have mumbled something that was brought about by Him who bore such sacred signs of love. Then he took the key and hung it on his belt. "Do you keep the key of the winds?" I asked. "I do, my child," he replied graciously. And lo and behold, I looked again and there were all the keys of my whole life. He saw my astonished look and asked: "Didn't you know, my child, that my kingdom rules over everything?"
"Overall my lord!" I answered; "then it's not safe for me to mumble about anything?" Then he tenderly put his hand on me. "My child," he said, "your only security is to love, trust, and praise everything."
– Mark Guy Pearse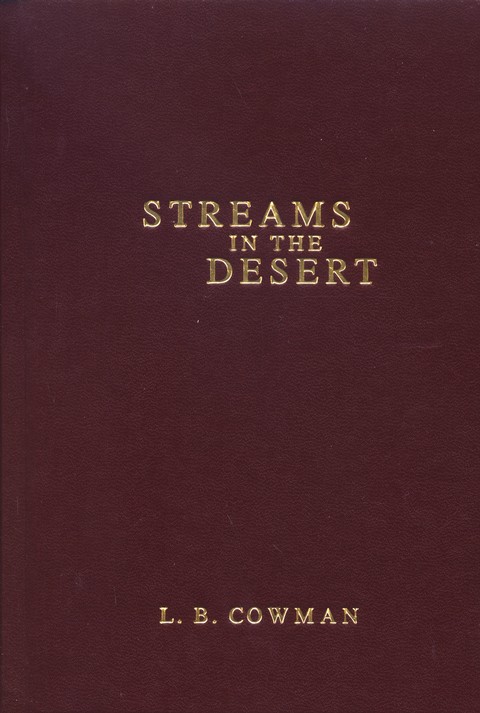 Buy your own copy this prayer.
Or catch up Streams in the desert in our archives.