The God of Abraham, Isaac and Jacob – day by day in your presence
Day 211
GOD OF ABRAHAM,
ISAAC AND JACOB
"I am the God of your father, the God of Abraham,
the god of Isaac and the god of Jacob. "
Exodus 3: 6
FROM THE HEART OF THE FATHER
My child, I have called great leaders in the past – gifted men and women – who have followed me throughout their lives in faith. But I enjoy using all of my children. Yes, I am the God of Abraham, Isaac and Jacob. But mistakes punctured their characters too. Still, I blessed and used it. It is not how big your gifts are that determine how I use you, but how big your faith can be and how available you are to me. Remember I'm a great god.
A grateful answer
Lord, I cannot stand in your presence without taking off my shoes and exposing my heart. Wherever you are, there is sacred ground. You are the god of Abraham, Isaac and Jacob. How is it that such a great God, the God of these giants, can also be my personal God?
SIMPLE TRUTH
When we look at ourselves, we see mistakes. When God looks at us, he sees Jesus.
More information about Rebecca can be found at www.rebeccabarlowjordan.com
Sign up for Rebecca's encouraging blog / newsletter or buy her latest devotional books from Zondervan
– Day-Votions ™ for women, Day-Votions ™ for mothers and Day-Votions ™ for grandmothers.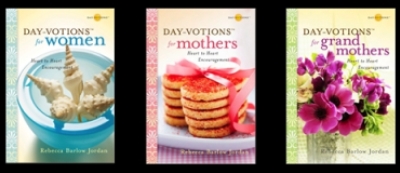 © 2002, Rebecca Barlow Jordan, Daily in Your Presence, Use With Permission, All Rights Reserved
Originally published on July 29, 2020.