Simply shake it off – from his coronary heart
Just shake it off
"But when Paul had collected a bundle of sticks and put them in the fire, a viper came out because of the heat and fastened on his hand."
Acts 28: 3
When I was a kid I played Pop Warner soccer. It was a lot of fun for a fifth grader like me who loved the sport. However, it was my first introduction to the meeting. After one of us got a big hit, I often heard my coach say, "You're fine. Just shake it off."
It's amazing how this simple advice can make such a difference. This is exactly what Paul did when he was bitten by a venomous snake. He shook it off … and took no damage.
PAUL'S STORY – IT'S ALWAYS SOMETHING
In Acts, Paul was sent to Rome for a trial before Caesar. It was a long journey across the Mediterranean. The ship on which Paul was on the move experienced a severe storm for weeks. It was a fearful event – "We will all die!" Seasickness was probably higher than ever as the ship was hit by wind and waves for two weeks. Everything was lost in the storm, from the entire cargo to the ship. But because of God's great mercy, not one person lost his life on board.
As soon as they reached land, the island of Malta, they collected sticks to warm themselves with a blazing fire. Paul was bitten by the fire by a viper hiding in the sticks. Can you believe that? He had just endured the worst storm of his life, struck certain death by God's grace, and then this happens! Goodness!
When the natives in Malta saw this snake bite, they suspected: "This man is undoubtedly a murderer, and although he was rescued from the sea, justice did not allow him to live" (Acts 28: 4).
But Paul wasn't freaked out. He just shook the snake into the fire. The natives waited for him to die … but he didn't die. In fact, he didn't even get sick or swell. When the natives saw this unexpected result, their mind changed drastically. They no longer considered him a murderer, but a god! (The volatility of public opinion is astonishing.)
PAUL'S LESSONS IN MALTA
1. Just shake it off. If the devil's venomous snakes have their fangs attached to you – people who slander your character or try to hurt you – just shake him off. Hand this "snake" to God and shake it off. Don't let the poison of bitterness poison your life.
2nd Trust God's Word. Paul had a promise from God that he would not die but live and testify before Caesar. He knew that dying at sea or in Malta was not God's plan for him. Regardless of the power of the serpent's poison, God's promise was more powerful.
3rd Remember that people are watching. These natives watched Paul for a long time to see if he would get sick and die. They were amazed when that didn't happen. People are watching how you and I react to unexpected attacks. Does the injected poison make us toxic? Do we get sick, full of bitterness, cynicism and revenge? When Jesus died on the cross, he prayed for those who insulted him. He took all the poisonous contempt and replied in love and forgiveness. He shook it off and decided to trust his father. And the hardened centurion who supervised his crucifixion exclaimed: "Verily, this man was the son of God" (Mark) 15:39).
You and I can have a tremendous impact on Christ if we try to "shake him off and trust the Lord." I know it's not easy, but it's always right. The bites hurt just like they hurt Paul, but God will give you the strength if you rely on him.
What are you saying? Will you shake it off with me
Love,
Pastor Jeff Schreve,
Ministries from his heart
Dr. Jeff Schreve believes that God still loves you and has a wonderful plan just for you no matter how much you screwed it up in life. From His Heart offers over 700 radio stations in 182 countries across the world real truth, love and hope every day and is always available online. Pastor Jeff does not take any income from this ministry. All donations go to public relations. As a service supported by listeners / viewers, we thank you for joining us to tell the truth in love to a lost and injured world. More information is available at www.fromhisheart.org.
SPECIAL OFFER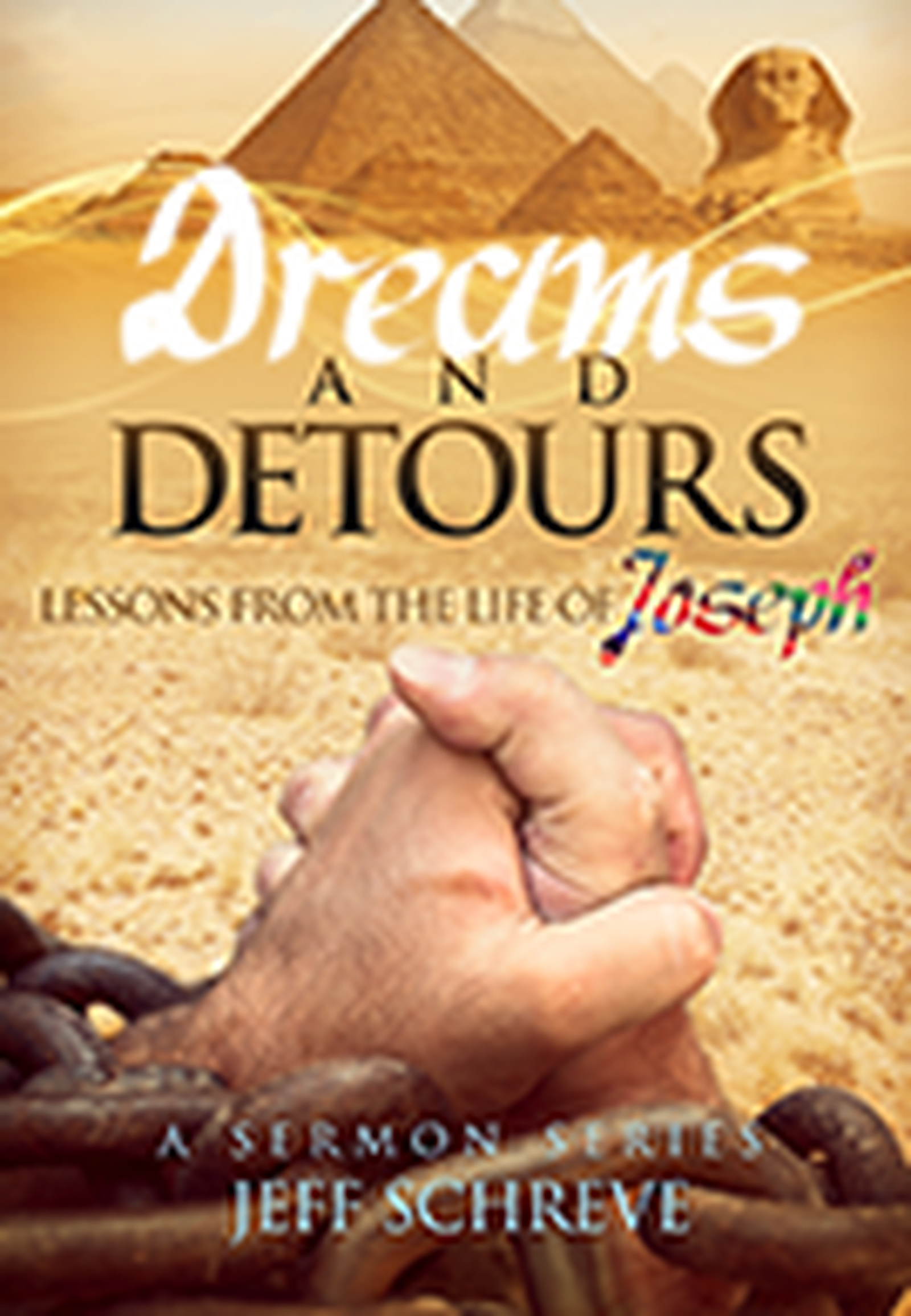 Dreams and detours: Lessons from the life of Joseph – Series
God-given dreams are a wonderful thing. But so often dreams take time to come true. In the meantime, detours and disappointments seem to line the path. How will we deal with the detours? Are we going to be bitter or better? Will we give up or stay loyal? In this powerful seven-message series, Pastor Jeff Schreve shares life-changing truths from the life of Joseph to help us trust and remain faithful to God regardless of the setbacks.
This series also includes a special bonus message from Governor Mike Huckabee, in which he tells how the Lord used the detours in his life to help him achieve blessed goals and a closer path with God.