Rejoice, we'll! – Easter devotion
Celebrate, we will!
By: Chelsey DeMatteis
"He has to gain weight, I have to lose weight." – John 3:30
As we have just gone through the Easter season looking at Jesus and his life, I often wonder what it would have been like to be there and watch his life. We read through the scriptures and take a look at amazing things about the life of Jesus and everything that happened to those around him. I get chills thinking about how he shows love, grace, truth-finding, and obedience to all that His Heavenly Father has directed him to do. So I find myself in an attitude of awe and amazement at every Easter time. The hopeful joy of knowing who is holding the pen to the side of my life and who is with me in all my seasons. That, my friends, is good news.
If you're like me, I like to think about the whole life of Jesus, not just his years of service. I can hardly imagine how Jesus takes his first steps as a wobbly toddler, or how he comes up to him to be baptized by John the Baptist, or how he feeds the 5,000 or has the honor of hearing him teach the Sermon on the Mount. All of these amazing things we hear and imagine but wow to actually see them in the flesh sounds like such a gift, a gift I would give just about anything to see it.
And while that would be an amazing gift, I am reminded that we have the greatest gift of living on this side of the cross. This side of the cross enables his spirit to live in you and me. On this side of the cross, death has no more sting. The gift of living on this side of the cross is a gift that we cannot overlook. We have the Word of God in writing that we can delve into to learn more about who our Creator is, what His Son's life really was like, and why we needed a Savior to take our place.
It sits in that awe and amazes that I am reminded of one of my favorite verses that changed my life forever: John 3:30. "He has to gain weight, but I have to lose weight." These are seven life changing, powerful, and necessary words spoken by John the Baptist. These seven words continue to remind me of the gift that Jesus gives us every day. Because of Jesus and his life, we can live our lives in an attitude of decline so that our life in him increases. How great is that? Our Heavenly Father sent his perfect, sinless Son, Jesus, to come and take the penalty for everything we would ever do, just so we could have the opportunity to be done right with him and live together forever. That leaves me speechless. Jesus had to come and accept all of you, and I would ever do, so that we could be right with God forever. He had to.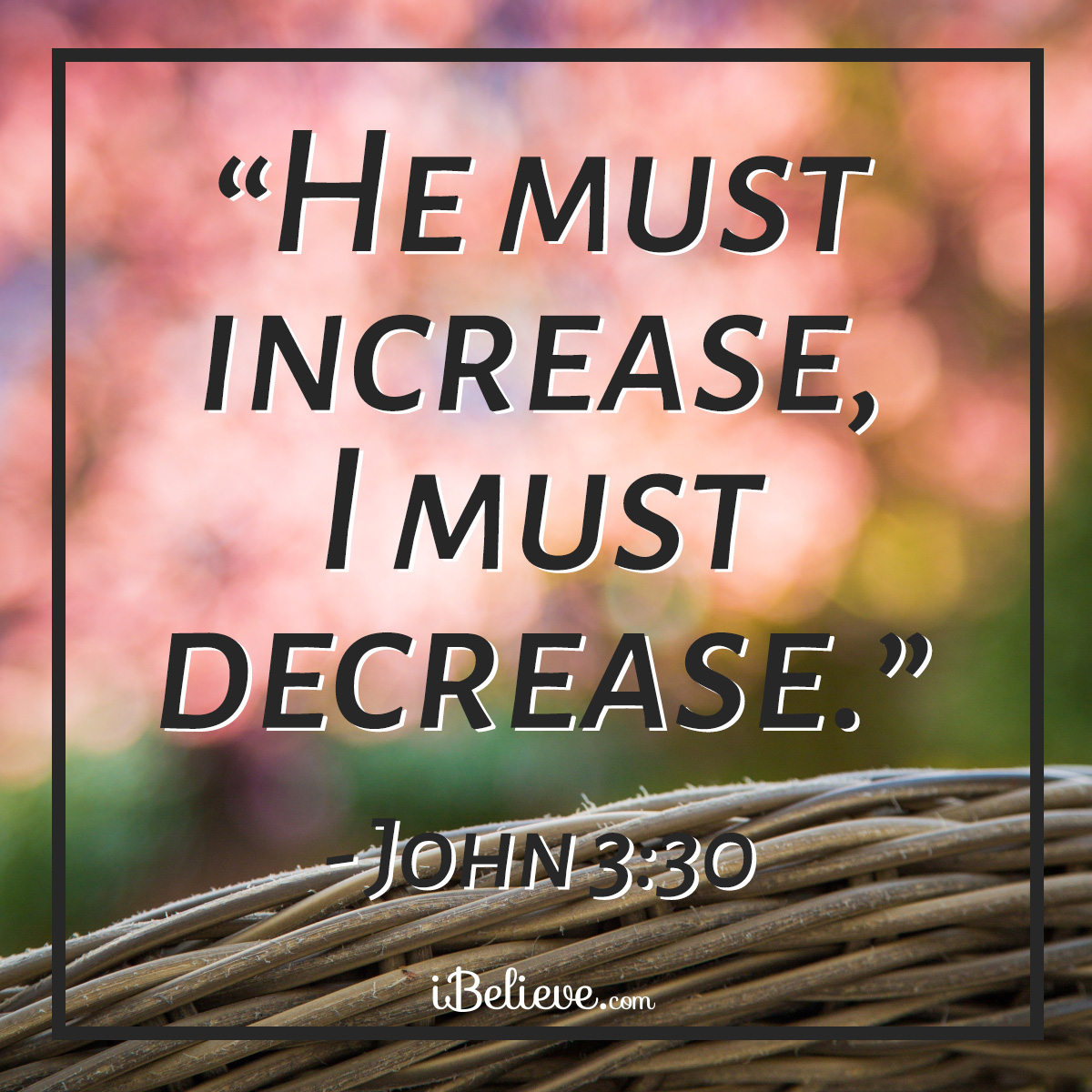 What a powerful, all-consuming love story it is and it is offered to you and me. We have a choice to accept Christ and all his life was, is, and will come. Because the life, death and resurrection of Jesus bind us to eternity. Without part of it, there would be no opportunity to have the gifts of grace and mercy. There is no conquered grave without the cross. The greatness of John 3:30 is so important to who Jesus is and what his life means to us. All he calls us to do is that our lives are those that soak up the goodness of God and all that He has for us. This means that we need to lose weight. His life calls us not to be afraid to pick up our cross and follow him. It calls us to love Him more than anyone or anything and to always walk hand in hand with His Spirit when we reject others to Him. This is what an increase of Christ looks like in our lives. When we die for ourselves to make him known. This is what we are invited to do and this, my sweet friends, is something to celebrate and we are going to celebrate.
For more information on Chelsey, please visit their website at https://chelseydematteis.com/.
You can find more great resources for women on iBelieve & # 39; s Faith Channel.

Do you ever read the Bible and think: am I missing something?

In this FREE podcastPastor and Bible teacher Nicole Unice brings new life to Bible reading by guiding listeners through her living method of Bible study and helping us meet God personally through His Word by giving us a practical, clear roadmap for understanding, the interpretation and application of Scripture gives our lives.