Ought to your church cease assembly to gradual COVID-19? How three Church buildings in Seattle Selected
As I write this, my heart is very heavy. I just spent the second Sunday morning of Lent with my wife in my living room and watched a live stream of the service from my church. The church was empty because the King County Health Department in Washington, USA sent a message to faith-based organizations last Friday that recommended that all meetings with 50 or more people be canceled. Almost all churches in the Seattle area have ceased their personal services along with most other church activities. Since the Evangelical Church that I visit has over 1,500 believers in four services every Sunday, we broadcast our services live. As this article was being prepared for publication, Governor Jay Inslee went one step further and banned meetings with more than 250 people in three subway districts. The WHO declared COVID-19 a global pandemic.
But my heart is not heavy because I couldn't gather with others to worship (as much as I value corporate worship). It's hard because I can see where the COVID 19 epidemic will lead us, while most in our society and in our churches don't. I was working for the World Health Organization (WHO) in Beijing seventeen years ago when the SARS coronavirus epidemic broke out in China. I was pushed to lead much of WHO's support for China and worked around the clock for over three months to help curb this epidemic. I have seen firsthand the effects of SARS on the people of China, the government's extraordinary social distancing efforts, and the costs society has paid to contain this epidemic.
After working for WHO and then the Bill and Melinda Gates Foundation in China, my wife and I moved to Seattle in 2015 to oversee the work of the Tuberculosis Foundation in several countries. For the past quarter of a century, as the follower of Christ, I have responded to a call to stop the spread of disease and work to eliminate it, and now I am following that call to speak to my brothers and sisters in Christ to seriously address this epidemic take and answer.
When COVID-19 first appeared publicly in China in January, this was not a problem for most churches in the Seattle region. But it caused a lot of fear among local Chinese churches because the Chinese Spring Festival was taking place and their members went to and came from China. Church members were extremely concerned about being infected by a traveler from China, and the number of Sunday worshipers decreased by half. The leadership of a majority ethnic Chinese Evangelical Church asked me to lead their church's local response. As a result, the large American Evangelical Church that I visit and draw parishioners from a wide geographic base made the same request, along with a smaller neighborhood church that is deeply engaged in their local church through aid programs such as scouts, childcare, and youth work.
By working with these churches, each with different approaches to engaging in the kingdom, I have learned that a solid response from the church requires an adequate understanding of how COVID-19 spreads and how it harms us and others from infection protect and how we can properly assess the risks we face in our communities.
Understand how COVID-19 spreads and harms
Several factors have come together to help the COVID-19 effectively and secretly intrude into our community without notice.
First, it is difficult to know whether you have COVID-19 or just a cold. Eighty percent of people with COVID-19 have mild symptoms such as fever, cough, runny nose, and general fatigue that corresponds to the common cold. This means that a person may carry and transmit the virus without knowing it.
Second, you don't have to be near an infected person to get infected. Infected people can cough and create droplets of breath, which then land on nearby surfaces. Or people with viruses on their hands can put the viruses on a door handle when opening the door. Because these viruses can stay alive on surfaces for at least several hours, people can be infected who touch a surface with the viruses and then touch their nose or eyes.
Article below
Third, about 20 percent of those infected develop a more serious illness and may need to be hospitalized. 3 percent of all infected die. However, the virus is particularly aggressive in the elderly and people with chronic diseases, which leads to a much higher mortality rate for these vulnerable people.
Therefore, this virus is particularly difficult to control, as it causes complacency in the vast majority of those infected, which facilitates person-to-person transmission and does the greatest harm to the most vulnerable.
In addition, we do not currently have enough test kits to diagnose this infection. There are currently hardly enough tests in Seattle for those who have been hospitalized for pneumonia. Although more tests should be available soon, we need to make the tests so popular in Seattle that anyone who wants the test can get it. Only then can we shed light on the actual size of this outbreak, which is required to contain it.
How we can protect ourselves and others from COVID-19
You are probably looking for good news by now. Fortunately there are some.
First, we know that it is possible to protect ourselves and others from infection. However, the approaches are so common that we underestimate how effective they can be: wash your hands frequently, avoid touching your face, be kind, but don't shake hands, keep away from sick people stay away and stay at home when you are sick.
You don't have to be afraid to hear someone cough near you. If this person does not cough directly in your direction and is within two meters, the viruses cannot reach you because they are in large droplets of breath that fall to the ground. The virus does not swim and does not circulate in the air.
Second, the virus can be defeated. All over the world, there are many examples of how COVID-19 enters a community and then never gains a foothold – all because people apply fundamental principles of public health. It is not sexy to quickly identify and isolate infectious cases and their contacts. But it works. However, it must be used aggressively and effectively right from the start.
Unfortunately we keep seeing that the answer is too late. Until the virus gains a foothold in the community, it takes much more aggressive social distancing to defeat it. I think this virus is already well established in many of our communities. Nevertheless, many churches are reluctant to act. Until an outbreak gets out of control – as in China, South Korea and northern Italy – extreme social distance measures such as the blocking of cities or regions are necessary. But the social costs of such extreme distancing will be high, not to mention the economic costs.
Simple tools are needed to formulate an answer
As part of our mission in this world, the Church can be a powerful means of preventing disease and protecting the vulnerable. We are an integral part of our community and many social contacts go through our church. If we can see the first signs of a local COVID-19 outbreak, we can help protect those inside and outside of our churches. But I've worked with enough disease-fighting efforts to know that convincing people that they should act is not enough. People need simple tools to help them take action.
Article below
Churches in the US are new territory in responding to the current epidemic. We will all continue to learn as this epidemic develops. Based on my recent experience, here are two simple tools that churches can use to make good decisions in real time: (1) a simple method to assess what a church should do based on local transmission risk, and (2) A framework that can help churches develop a specific plan to prevent infections and increase social distance, which can be implemented when needed.
How to determine your church's risk and response
With increasing cases of COVID-19, we see a lot of fear and uncertainty about what the Church should do. However, the reactions can be based on solid epidemiological principles. I use traffic light pictures to help churches think about their local risk of transmission and what measures they should take (see figure). After all, the entire transmission of this virus is local. Your actions should not be based on what happens 50 miles away. They should be based on what's happening in your particular community.
Your church is in a "green light zone" in which no cases of COVID-19 are known in your congregation. What should you do
Implement all of these boring but effective public health measures like washing your hands and staying home when you're sick.
Tell your community about COVID-19's symptoms, how it spreads, how it affects the elderly and those with chronic illnesses, and what they can do to protect themselves from infection.
Conduct discussions within the church and make concrete plans to change, cancel, or replace church activities as needed. Church leadership should be involved in this process. Now is the time to lay a good foundation to prepare for what the Church expects next.
Because of the enormous mobility of people and the ease of travel, many communities have started to import COVID-19 cases into their community. As soon as a case from another community arrives in your community, your community will be in the "Yellow Light" zone. If no one is infected who has come into contact with this case, it means that no further transmission of COVID-19 has taken place. If one or more of the contacts is infected, but no one in the community is infected, it means that the transmission has not spread to the wider community. The church is still in the yellow zone. What should your church do at this point?
If your church has not drawn up a concrete response plan, do it now.
Start implementing this plan, change some activities to reduce the risk, and let the whole church know about it.
Set up a system to quickly communicate changes in church activities to the entire community.
Be hypervigilant and check regularly with your local health department for other cases that could bring your church and church to the red light zone.
Your church will move to the red light zone as soon as an inhabitant of your congregation becomes infected, but has not recently traveled to another area with cases and cannot be linked to another case. This triggers an alarm because the transmission was not previously recognized in the community. Epidemiologists call this community transmission. A community is also in the red zone if several transmission generations in the community are linked to an imported case. Once in the red zone, your church should do the following:
Implement various social distancing measures and protect the vulnerable groups.
As more community broadcasts take place, temporarily stop doing more activities, including corporate worship, and switch to live streaming or small group worship whenever possible.
Article below
Pay attention to recommendations or mandates from your local health department. You may be asked to restrict social gatherings.
How to make decisions about your church's activities
When I worked with the three churches in Seattle, I found that they were all initially struggling with different opinions about what activities should be canceled or changed in planning their response to COVID-19. I have developed a framework to help them. Using a table, we listed church activities, considered possible transmission of the virus during each activity, assessed risks, provided changes or replacements, and then made decisions for each activity (see figure for an example).
The key is to find out how direct or indirect transmission can be done through each activity. Note how COVID-19 is transmitted. When assessing the risk of direct transmission, ask: How likely are people to cough, sneeze, or produce breath droplets? How likely is direct hand contact? Activities like singing, talking up close, shaking hands, and hugging are at increased risk. To reduce the risk, you should increase the distance between people, preferably more than two meters.
When assessing the risk of indirect transmission, ask: How likely are people to touch surfaces that may be infected? Activities where surfaces are touched, e.g. B. offering plates, communion plates, Bibles and coffee dispensers increase the risk. To reduce the risk, you should wash your hands frequently and use hand disinfectants.
Take age groups into account when planning which activities to change or cancel. The much higher risk of serious illness in the elderly and people with chronic diseases means that we have to protect this group from infections.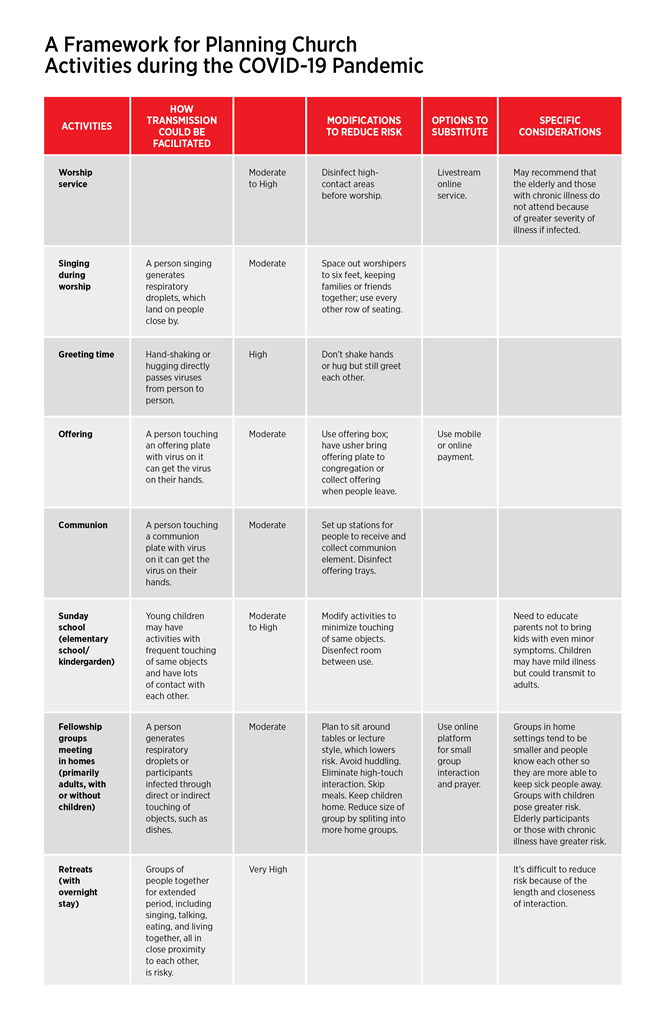 Keep in mind that the decision about which church activities to change, discontinue or replace largely depends on the degree of transmission by the community (see figure). If the level is low, you can only change some activities, but not cancel any. However, as the transmission from the church increases, it becomes better to discontinue activities as an infected person is more likely to unwittingly enter the church. Finally, follow the public health recommendations.
With this approach, a pastor said: "We have found that serving children is a high risk because children are constantly touching and we cannot control it." If they spread infections among themselves, they can bring them home to their parents and grandparents. In addition, many of our teachers are older and we don't want them to be infected. So we quickly decided to close Sunday school for children. "
An elder said: "People of all ages attended our choir. But when singing during rehearsals or standing in rows and singing during the service, there was a medium to high risk of transmission. We therefore decided to replace the choir with a quartet, especially since some of the choir members were older. "
A senior pastor said, "I received calls and emails from individual ministerial leaders about their activities. It was very helpful to list all activities at once and to check the risk of transmission at once, as we were able to compare the risk of one activity with another. This helped us to be consistent when making decisions about individual activities and we could clearly communicate why we made these decisions. It was very helpful for our team. "
Communicate with Church members as you develop your church's response plan. The fear of some members will subside when they know your church is making a plan. They can better understand the reasons for the Church's decision-making process and comfort themselves when they know that it is based on good science. Develop a communication process because decisions often need to be made in real time and then communicated to the community clearly and effectively.
Article below
Your church must have a plan to respond now
When I think about our experience in Seattle over the past few weeks, I'm impressed with how quickly this outbreak started. COVID-19 will hit many communities hard and quickly. There is no time to waste. Because our church activities can facilitate the transmission of this virus, our churches should "do no harm first," a saying I learned at the medical school. Using the tools described above, based on our current understanding of this virus, our churches can create a response plan to quickly protect ourselves and the weakest among us. By implementing such a plan, our churches can play an important role in containing the flood of this epidemic and reducing its damage to society.
While the approach discussed here is strongly characterized by good public health and epidemiological approaches to decision-making, it highlights the empathetic response and commitment of those who have the virus and who suffer from its greater effects. I hope that after understanding how the virus spreads and damages, this response plan may also include opportunities to be compassionate in serving those who are sick, caring for the most vulnerable, and becoming a community responsive to the needs of World is sensitized and committed.
Daniel Chin is a physician trained in pulmonary and intensive care medicine and epidemiology with 25 years of experience in the field of public health. In 2003, he led much of WHO's support for China to curb the SARS epidemic.