Christ-centered nonprofits and church buildings surprisingly ended W … | in 2020 The trade
The dreaded financial burden of the pandemic for churches and non-profit services did not materialize in 2020. This emerges from a survey of 1,292 members and friends of the ECFA (Evangelical Council for Financial Accountability) published on March 4th in a 12-page, illustration-rich report entitled "Remarkable Resilience".
Every three months since the country's financial upheaval caused by the coronavirus last spring, the ECFA has polled its members as well as other like-minded churches and nonprofits. After an initial decline in charitable donations, donations rose and remained somewhat stable through the summer and fall. Donors' fatigue evidently did not set in with the last objections at the end of the year.
Image: Dr. Warren Bird
What did our survey show? For 85%, the income from donations in 2020 was close to that of 2019. The breakdown of the 85% is illuminating: while 18% said they are close to each other, meaning that 2020 was 1-10% lower than 2019, and 14% said the two years ended the same way, 27% said money donated in 2020 was 1-10% higher than in 2019, and a staggering 26% said cash donation was more than 10% higher in 2020 than in 2019. 53% said that 2020 ended up with higher cash receipts than 2019.
For most churches and nonprofits, donating cash is the largest part of income. The 2,546 member organizations of ECFA generate an average of 58% of their revenue from green money, checks, online donations, etc. Another 27% of revenue comes from "miscellaneous income" such as facility rentals, tuition, program fees, etc. The remaining 15% This formula varies Depending on the type of ministry, the ministries for child sponsorships earn an average of 99% of their income from donations, churches 83%, rescue operations 53% and children's homes 28% and colleges / universities 18%.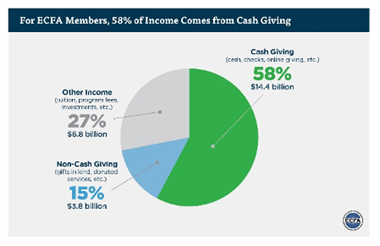 Image: Dr. Warren Bird
In the latest ECFA survey, the piece of "other income" in the cake did not do as well on average as the piece of donation. Some groups saw significant sales declines in "other income". Overall, only 67% said their 2020 income in this category was higher, equal to, or close to 2019. The percentages that said this varied greatly depending on the type of service. 94% of pregnancy centers stated that "other income" in 2020 was higher, equal to or close to 2019. For churches it was 61%. For camps and conferences it was only 10%. Those most affected have been travel-based government departments (e.g. short-term missions) or face-to-face meetings (e.g. camps, conferences, and sports ministries).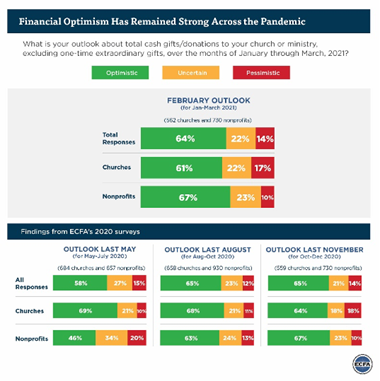 Image: Dr. Warren Bird
Somewhat surprisingly, financial optimism has remained strong during the pandemic. When asked about their financial prospects for the next three months, larger percentages of churches and ministries chose "optimistic" as "uncertain" or "pessimistic". In the survey of February 2021, 68% voted "optimistic". Interestingly, in the three previous quarterly surveys, overall optimism was almost as high: 58% (May 2020), 65% (August 2020) and 65% (November 2020).
One source of people's optimism is the role of cash reserves. When asked about the level of their cash reserves, 74% said they did not touch their reserves in 2020 rather than using some or all of them. The answers to this question have also been broken down by type of service, again with large differences between the different types of service. Predictably, warehouses and conferences have most likely depleted some or all of their cash reserves.
The survey asked about other topics such as: B. whether staff were increased, kept or decreased at the same level – and the majority stated that they would keep staff at the same level. We also asked about non-personnel expenses, with the answers coming all over the card. This non-personnel spending appears to be where churches and ministries made their biggest adjustments during the pandemic.
Perhaps the biggest surprise was the answer to the question of whether churches and ministries are likely to apply for a PPP loan (Paycheck Protection Program) in 2021. Surprisingly, only 23% plan to do so.
"I think our survey reports not only confirm what churches and ministries are experiencing as a whole," says Michael Martin, ECFA President. "But they also encourage them to move forward with greater audacity and confidence as each one remains focused on their God-given mission."
The full Notable Resilience Report and previous reports can be downloaded for free from ECFA.org/surveys.